LITTER'S TREATMENT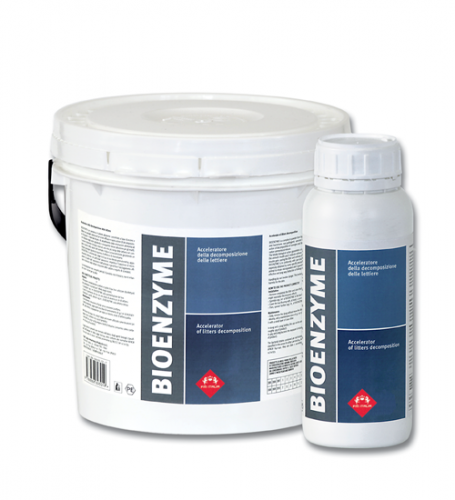 BIOENZYME
Complex in powder form highly concentrated based on enzymes and non-pathogenic bacterium selected because of their effectiveness.
The totally biological action guarantees a long-lasting use of litters, respecting the animal's health and it reduces ordinary repairs. In this way, you will have a double gain: saving the litter and ordinary repairs.
USE:
Installation: Remove completely litters and clean the box (do not use disinfectants which might neutralise the enzymes effect);
Sprinkle 10g / m² of BIOENZYME on the floor;
Cover the floor with, at least, a 20cm layer of litter;
Then, spread further 10g / m² of BIOENZYME on the litter itself.
Maintenance: Daily, remove the dung without moving the litter;
Weekly, add a maintenance dose of 5g / m² of BIOENZYME on the litter, covering it with a small layer of clean litter.
Handling does not involve danger. The product is not toxic, irritating and it is not harmful for the skin.
PACKAGING:
1200 g bottle / 4 Kg - 10 Kg buckets.