CARE AND HYGIENE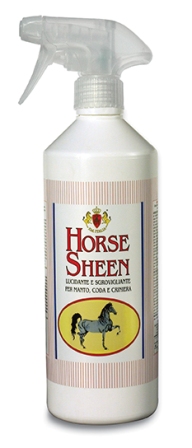 HORSE SHEEN
Shiner and refiner that, thanks to its natural ingredients, keeps the horse's coat, tail and mane shiny. Its double action of shining and disintangling allows to keep the coat clean and healthy. Specific detergent substances keep the mane and tail easy to groom, maintaining thickness and shine. Keeps the mane and tail free from dust, dirt and wood shavings. It can be used either on a damp coat or a clean, dry coat.
USE:
After washing; Spray onto a part of the coat and rub gently with a soft, dry cloth. Repeat until whole horse is covered.
On dry coat; brush the horse thoroughly to remove impurities, then spray from a distance of about 20 cm and stroke in direction of growth with a woollen cloth. Brush coat and mane well.
PACKAGING:
500 ml - 1000 ml bottles - 5000 ml tank.