CARE AND HYGIENE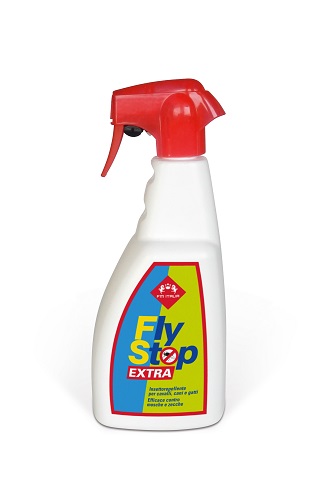 FLY STOP EXTRA
FLY STOP EXTRA is an insect repellent developed to protect animals from the insect's nuisance and bites, providing relief, specially during warm seasons. FLY STOP EXTRA efficacy results by the clever combination, realized in FM ITALIA chemical labs, between DEET molecule (largely used for human care) with the active drug of the GERANIOLO. Innovative technologies allows us to incorporate DEET into microcapsules. Active ingredients are released slowly and steadily over the time, ensuring an uniform and prolonged coverage, compared to the other classic products on the market. ACTIVE PROTECTION UP TO 24 H. GERANIOLO instantly defends the animal from flies and ticks attack. FLY STOP EXTRA gives a great FRAGRANCE to the cloak , neutralizing bad smells.
USAGE
Brush the animal' cloak before application, to remove dirt and dust. Spray the product evenly over the cloak, from a 20 cm distance , protecting eyes, nose and mouth. For application in sensitive areas, is recommended to apply the product on a wipe and gently massage the skin until the total absorption.
PACKAGING
200 ml / 750 ml spray bottle.