CARE AND HYGIENE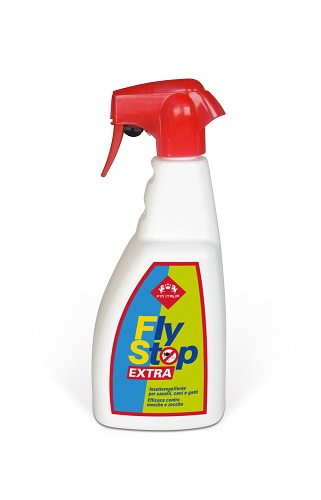 FLY STOP EXTRA
Liquid insect repellent spray for topical use on horses, dogs and cats.
The product combines the efficacy of DEET, an active ingredient that has been used as repellent on humans for decades, with that of geraniol.
Product efficacy has a long duration as a result of the particular technology perfected by our company.
Indeed, DEET is enclosed within microcapsules that slowly release the active ingredient, prolonging product efficacy in time.
Instead, geraniol is free in the formulation and instantly protects the animals from the attack of flies and ticks.
The product is pleasantly scented.
INSTRUCTIONS FOR USE:
Thoroughly clean the coat and spray the product uniformly on the animal from a distance of ca. 20 cm, avoiding eyes, nose and mouth.
To apply the product in very sensitive areas, such as the face, spray the product on a tissue and then apply on the animal's skin.
PACKAGING
200 ml / 750 ml spray bottle.

PMC REGISTRATION OF THE MINISTRY OF HEALTH N° 20231